Palace hotel Tokyo, best hotels in Tokyo
The Palace hotel Tokyo possesses a prime location in the center of the city and this is why this is one of the best hotels in Tokyo. Tokyo, the Capital of Japan, is a city where East unforgettably meets West. It's neon-lit streetscapes are famous the world over. The city is home to mega-malls, edgy designer boutiques and the world's tallest tower – Tokyo Sky Tree. Tokyo with its array of array of sleek and ultra-modern skyscrapers might appear to be a city of the future. However, you can see traces of the Shogun's capital everywhere you turn.
In the shadows of the skyscrapers, you can find historical wooden temples and wooden shanty bars. You can wander down quiet alleyways to find traditional festivals and lantern-lit yakitori stands. In the older neighborhoods, you can still buy handicrafts made just as they have been for centuries. You can wander down cobbled lanes where geishas once walked. One of the most famous sites in Tokyo is the Imperial Palace that sits amid extensive, sprawling public gardens.
Overlooking these extensive gardens is the luxury hotel, Palace Hotel Tokyo. The hotel is in the center of Tokyo in the Marunouchi district. This area is home to the headquarters of some of Japan's most prestigious corporations. It is also an area famous for its high-end retail opportunities and world-class dining.
Every year, Antonio Cuellar is a judge for the Luxury Travel Guide International awards. Palace Hotel Tokyo was one of Antonio's nominations for the Asian category of these awards.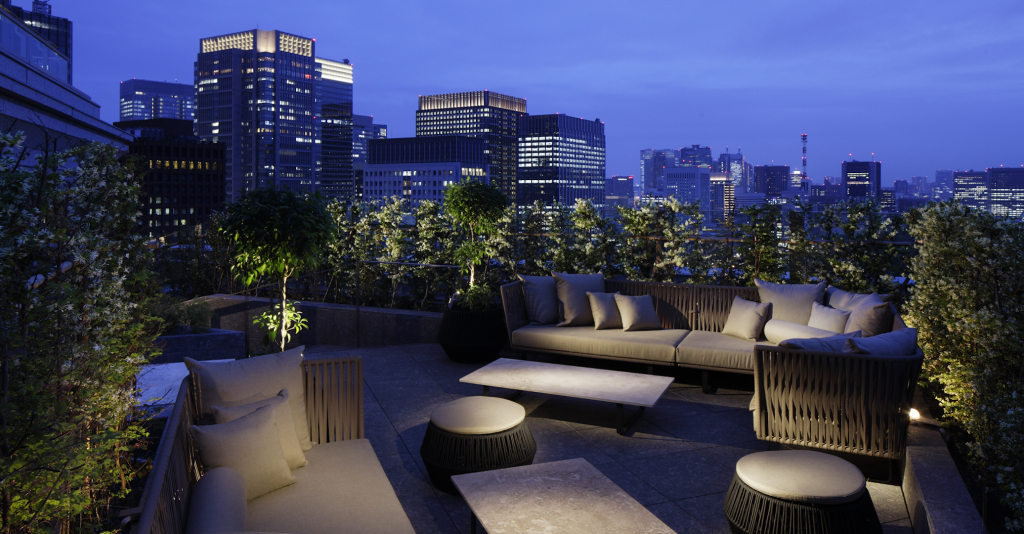 An overview of one of the best hotels in Tokyo
Palace luxury Hotel Tokyo opened in May 2012 with an excellent moat-side setting in Marunouchi. Since its opening, the hotel has received countless awards and accolades. In 2017 Palace Hotel Tokyo won Travel + Leisure's World's Best Award making it one the best hotels in Tokyo. Elite Traveler included it on its 'Top 100 Hotels, ' and it received five stars from the 2017 Forbes Travel Guide.
The Hotel has been at the pinnacle of Tokyo's luxury hotel scene since it first opened in 1961. The hotel took the bold step of demolishing the entire building during a three-year process. A new 23 story tower that opened in 2012 replaced the original building. Ever since its opening, it has been one of Tokyo's ultimate luxury hotels. The experience of the Palace Hotel Tokyo begins for the guest as soon as they enter the lobby. Here you find an ambiance more suited to a grand residence than a hotel. Walls of glass, plush carpets and a stunning array of modern artwork.
Despite its inner-city location, the views from the lobby are surprisingly countrified. A perfectly manicured maple tree overlooks the graceful swans that reside in the peaceful waters of the Imperial Palace moat. The hotel still retains a sense of its historic past, even though it only opened in 2012. The original white grand piano remains in the Lobby Lounge, and Lobby includes Imperial Palace stonemasonry at its entrance.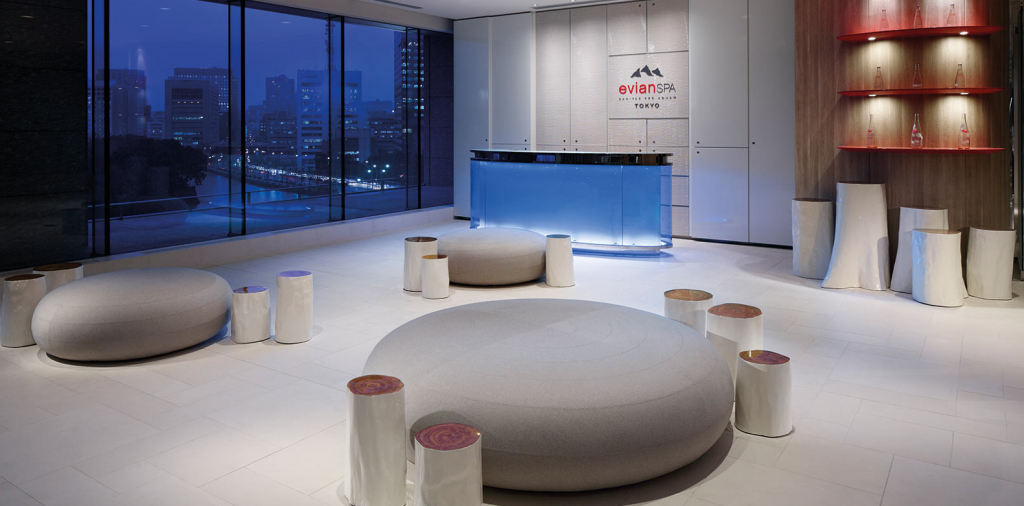 The Evian Spa at Palace Hotel Tokyo
Palace luxury Hotel Tokyo is also home to Japan's first Evian Spa. Its location is on the fifth floor next to the state of the art fitness center. LED light therapy mimic the light cycle in the French Alps. There is also a taste of Japan in the luxurious spa. It has an origami ceiling installation that resembles a swarm of birds. The Evian Spa offers the Vitalizing Signature. It is an Eastern treatment that combines acupressure and deep-tissue massage and is unique to the Tokyo Evian spa.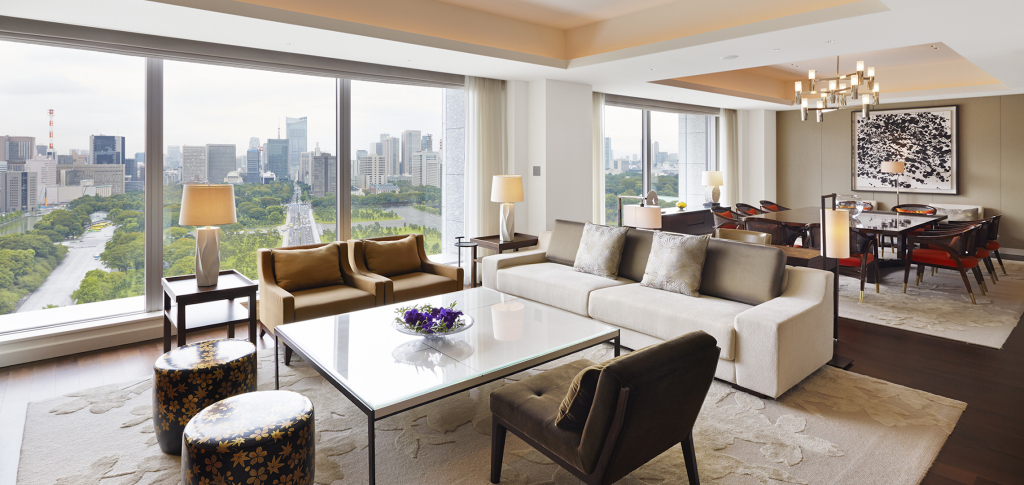 Luxury accommodation at Palace Hotel, Tokyo
This incredible Japanese luxury hotel is home to 290 luxurious rooms and suites. Every single room provides breathtaking views. Rooms either overlook the glorious Imperial Palace gardens or include the stunning skyline of Tokyo. One of the signature features of Palace Hotel Tokyo is that over half of the rooms include spacious balconies. Outdoor access is a rarity for a luxury hotel in Tokyo, so it makes Palace Hotel Tokyo unique.
Palace Hotel Tokyo accommodation rooms are spacious and light. Contemporary fixtures decorate the rooms, as does a natural palette of whites, greens, and timber. The rooms have all the requisite amenities that you would expect from a luxury hotel. Blu-ray, DVD players, international power outlets, LCD televisions and high-speed wired and wireless internet. Touches that are indicative of Japanese hospitality include Maruyama Nori green tea and Mashiko ceramics.
Luxury and comfort surround you as a guest of Palace Hotel Tokyo. In the bathroom, guests can spoil themselves with Imabari bath towels and Anne Semonin bath amenities. An extensive and original artwork collection decorates the guest rooms. Throughout all guestrooms and public spaces of the hotel, there are over 1,000 individual pieces. The hotel either commissioned or specifically chose each piece for the hotel. It is a collection of a huge array of Japanese artists.  The artists are a collection of famous and emerging artists.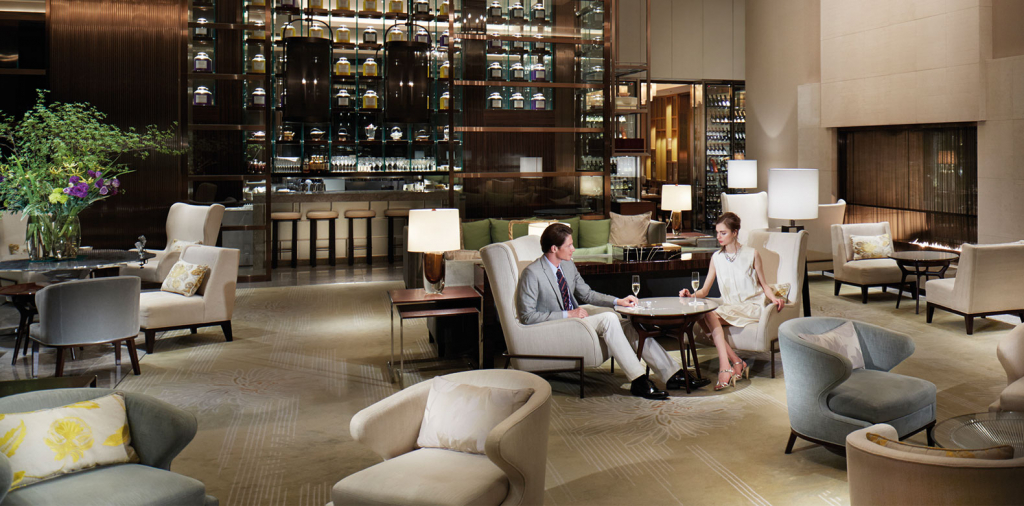 Dining at Palace Hotel Tokyo
Tokyo is home to one of the most diverse food scenes in the world. An accommodation cannot be regarded as one of the best hotels in Tokyo with having fantastic restaurants. It boasts more Michelin-starred restaurants than any other city on the planet. It also dominates San Pellegrino's list of the best 50 restaurants in Asia. In such a city, one would expect that a Tokyo luxury hotel can offer sophisticated and extensive dining options. Here, Palace Hotel Tokyo does not disappoint.
Palace Hotel Tokyo opened in 2012 with an astounding array of restaurants, bars, and lounges. The restaurants have received countless accolades since that time. Palace Hotel Tokyo provides some of the finest wining and dining experiences in the city. Rivalling Tokyo's best, Palace Hotel Tokyo provides ten uniquely designed venues. They work together to provide an astounding choice of dining options. The choices are endless. Three Japanese restaurants, a Chinese restaurant, an International all-day offering along with a flagship French restaurant. There is also a lounge, two bars, and a pastry shop to tempt the most discerning of guests.
Palace Luxury Hotel Tokyo – where East meets West
Palace Hotel Tokyo has been a signature hotel since its original opening in 1961. A contemporary hotel of its time known for its comfort and distinctive architecture. When it closed its doors in 2009, Palace luxury Hotel Tokyo had its challenges. The main challenge was going to be retaining its signature best hotels in Tokyo. The new Palace Hotel Tokyo is a celebration of luxury and unique Japanese homegrown hospitality.
Palace luxury Hotel Tokyo has retained its position as one of Tokyo's premier luxury hotels. The new structure has also redefined luxury and Japanese hospitality. Although wholly contemporary the new building includes original features from the old building. The building uses the original Shigaraki tiles and there is a home for the glorious old bar counter and "Mr. Martini". Traditional ink wash paintings from the original building decorate the hotel suites.
Palace Hotel Tokyo is a genuine celebration of a luxury hotel where the East seamlessly meets the West. Timeless comfort, luxury and the sophisticated hospitality of the Orient easily satisfy the modern requirements of the modern traveler.
Endless luxury and classic styling in addition to an extensive and revered art collection. Stunning and exclusive views over the Imperial Palace gardens and celebrated dining options. Tokyo is a city that is a world-famous destination. Palace luxury Hotel Tokyo offers so much, that it is, in fact, a destination of its own. This hotel will be regarded one of the best hotels in Tokyo for a while.
For more information, please visit the Hotel website :
For other reviews on luxury hotels in Asia visit Eclat Hotel Beijing and The Reverie Saigon
---