Barcelona travel tips for the Budget traveler.
Picture the scene, you have arrived in one of the World's most fascinating, architecturally and culturally rich cities and you want to explore everything and anything in your tourist guide, but here's the snag – you are working to a tight budget. You have your Catalan accommodation sorted out, so how do you Barcelona travel tips? You have come to the right place.
Buy a Barcelona Card
This may seem like you are spending most of your budget in one go, but you won't regret it, and the great thing? It kicks in as soon as you land at Barcelona El Prat airport. Purchase a Barcelona card and you will find at your disposal free transportation from the airport to the city center either by train, metro line or bus depending on where you are staying. The Barcelona card also offers you free transport throughout the city for a period of time usually 2-5 days, purchase the ticket relating to your length of stay. The ticket covers all of Zone 1 which encompasses the city center and main tourist attractions in Barcelona. In addition to covering your transportation costs for the duration of your stay, it also offers a reduction in price at some restaurants and for music performances at venues dotted throughout the city. If you have specific attractions in mind such as the Miró or Picasso Museum there is also 20% off the entrance fee. Now you have your transportation issues resolved you need to decide where to go first, continue reading Barcelona travel tips for the next idea.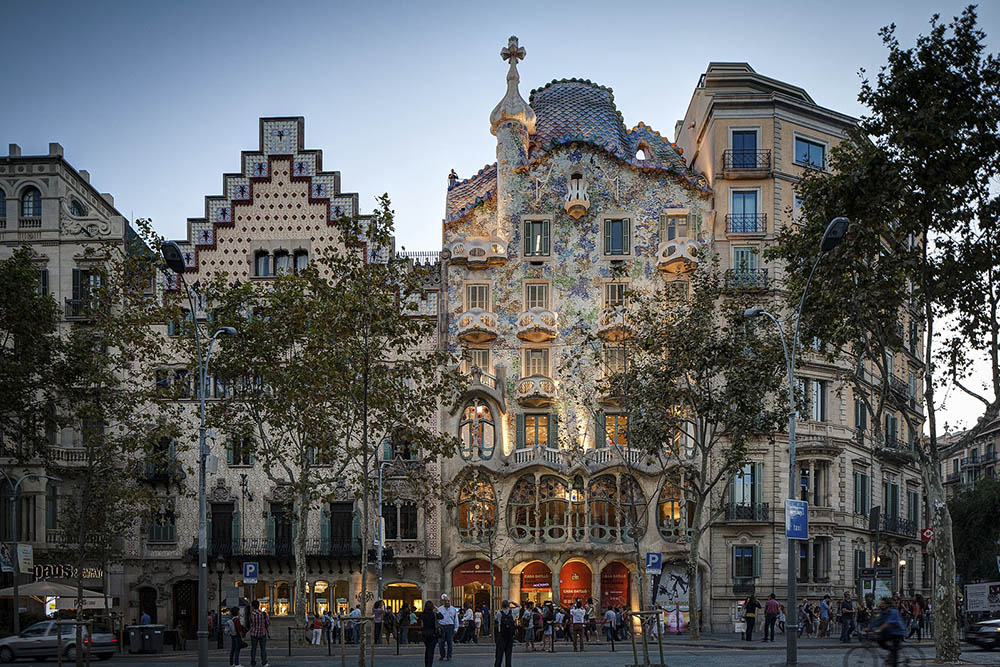 Gaudí s Masterpieces
There are many ways to see the structural masterpieces of Gaudí without spending a dime. The Barcelona free Gaudí tour offers an insight into his genius with a free walking tour to discover some of his magnificent city works. This tour includes a talk about the life of the great architect and artist, from his humble background as the son of a coppersmith in Reus, to him gaining his first commission in Barcelona and how he came to design and build one of the world's most famous structures – La Sagrada Familia Cathedral. The free walking tour takes 2 – 2.5 hours and covers Casa Batlló, Casa Milà (also known as La Pedrera) and the Sagrada Familia Cathedral. The tour meets at the central point of Plaça de Catalunya at 11.00 daily, your Barcelona travel card comes in handy as you can use it for the metro stop on the tour. With the free walking tour, you may not get to see the inside of these incredible masterpieces, but the exteriors of the buildings alone are a feast for the senses –  a great photographic experience and one thing you can do in Barcelona on a budget.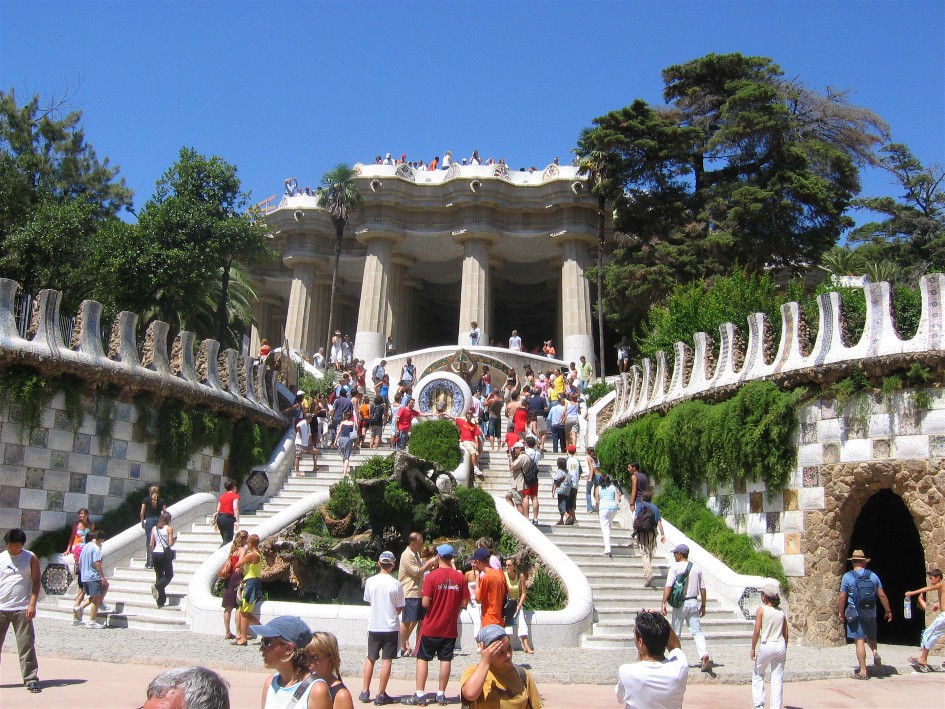 Park Güell 
My next Barcelona travel tips is to visit a place you should visit if discovering Barcelona on a budget is Park Güell. It is a wonderland of a vibrant tapestry of color in the centre of Barcelona. The area was originally created as an expression of modernism during the times of a cultural resurgence of the city. Wealthy landowner Eusebi Guell approached Antoni Gaudí after seeing a window display he had put together for a Paris exhibition. Intrigued by his foresight and attention to detail, he asked Gaudí to create a park estate for the wealthy people of the city. Gaudí obliged by designing a magical retreat of brightly colored mosaics, undulating curves and a unique plethora of creativity which has been unsurpassed to date. Park Güell has amazing photographic opportunities, the towered mosaic obelisks, and quirky inspirations will capture the imagination of both adults and children. Although a visit to the monumental area is not free, there is an area of the park which has free access for all if tickets are booked in advance.
Go to Las Ramblas
Las Ramblas is a pretty tree-lined avenue which links the Plaça de Catalunya to the Port Vell area of the city. It hosts a myriad of tapas bars and shops on one side and boutique hotels and a vibrant market on the other. It could be the ideal location from which to base yourself when you are visiting the city, especially if you enjoy being in the thick of things and within easy access to main tourist attractions. Las Ramblas is a haven for tourists, newspapers and magazine stands tout their wares as sunflowers and carnations sit in buckets under the florist's awnings waiting to be picked, their shimmering petals dancing in the sunlight. Street and mime artists painted in gold and silver entertain you as you walk on by with complex routines of magic, mime, and dance.
To the right of Las Ramblas heading towards the port area is La Boqueria St Josep. It is one of the best fresh produce markets in the region where Michelin star restaurants of Barcelona and local restaurants come to purchase their fresh fruit and vegetables, cured meats and cheeses. It has an incredible bustling atmosphere which will tantalize all of your senses. With a multi-coloured citrus rainbow of produce it is the ideal place to visit in Barcelona when you are on a budget, as it can provide you with reasonably priced, good quality food for a self-catering city apartment or for a beach picnic.
You will know you have reached the end of Las Ramblas when the Mirador de Colón comes into sight. The Christopher Columbus monument points out to sea – look out to the crystal azure water of the Mediterranean and decide which area of the city you wish to explore next.
Explore the City's Gothic Quarter
Barri Gòtico is the old medieval city centre of Barcelona, it is also known as the Gothic Quarter, just nestled just off Las Ramblas. With narrow cobbled medieval streets – some of which date back to the Roman settlement of the city, the Gothic Quarter provides an insight into the old heart of the city. It houses some of the finest tapas and bodega bars, combined with elegant Spanish fan shops and souvenier establishments which all compete for your trade. There are many places of interest to see in the Gothic Quarter from the Church of Santa Maria del Pi, Basilica of La Merce and Placa Sant Jaume, all of which are free to enter. Relax in one of the many squares of Barri Gòtico and watch the Catalan people and tourists blend together with chatter and song in a unique and picturesque environment. If you are only going to follow one of my Barcelona travel tips follow this one.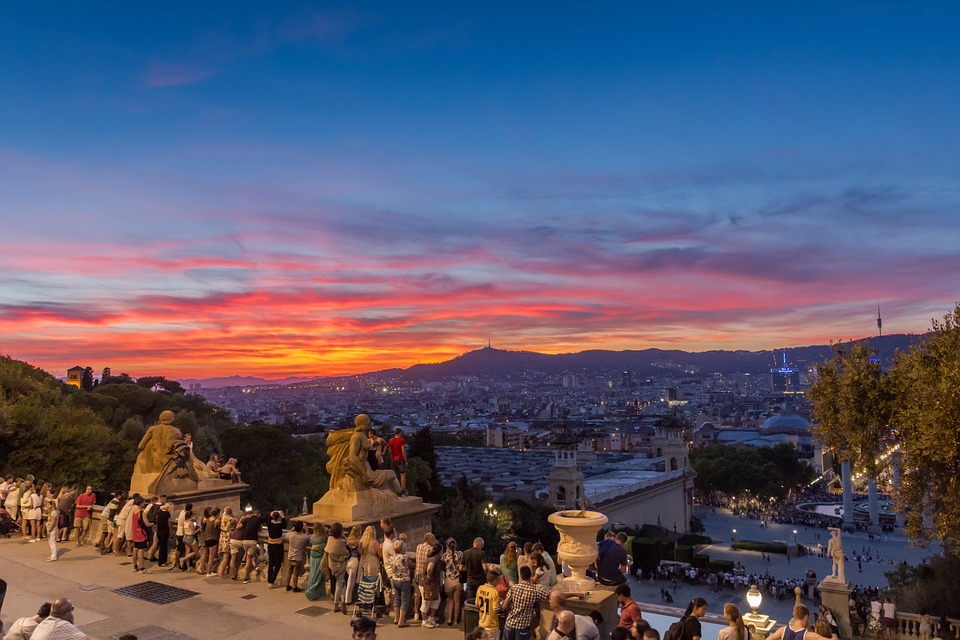 Explore Montjuic Mountain
Montjuïc overlooks the Port Vell area of Barcelona, the area is known for hosting some of the biggest events of the past century, including the 1992 Olympic games which brought much investment into the district.
You can visit many of the Montjuïc area of Barcelona travel tips, including: The Miro Foundation, the MNAC (Museum of National Art Catalunya) and the Museum of Archaeology. It also houses the incredible Montjuïc Castle and the National Palace. If you wish to splash out and indulge in a cable car ride to Montjuïc you can do so from Port Vell, however you can also reach here by bus with your Barcelona card from many areas throughout the city. Take your picnic foods from La Boqueria and relax in the splendid majesty of the Botanical Gardens, a beautifully sculpted park overlooking the city with an impressive fortress. The views from Montjuïc are a photographer's paradise with panoramic views across the cityscape and shouldn't be overlooked when visiting Barcelona.
Also in this district is the Poble Espanyol or Spanish Village. This is one of the most popular attractions in Barcelona, an incredible open air museum which can be explored while walking narrow cobbled streets, gardens and ornate squares. The Poble Espanyol is unique – the museum has replicated 117 buildings from across Spain, which have all been reproduced here and built to scale, literally bringing the best of Spanish architecture all into one place. The village offers pretty artisan shops where you can watch glassware being hand blown and Spanish Guitars being made. Finally, if you are visiting Barcelona on a budget, you must visit the Magic Dancing Fountains. A free spectacle held most evenings where vibrantly colored jets of choreographed water dance in unison with music, the spray cooling on-lookers on a warm summers evening. Watch the sun set as the colorful fountains dance for some truly magical moments.
El Born District
When you have completed your visit to Montjuïc and watched the mesmerizing magic fountains at work, there is only one place to go – the trendy El Born district. You can see the El Born area of Barcelona when you are on a budget too. Situated behind the Gothic Quarter El Born has bars, restaurants and extraordinary nightlife. You can dance the night away here to Reggae, Salsa, Hip hop, Jazz, and Funk. There are even nightclubs which specialize in 70's and 80's music only. Try out some of the local tapas – small delicious dishes ranging from 1 to 3 euros per dish. From Boquerones (anchovies) to albondigas en salsa (meatballs in sauce) or patatas bravas there are plenty of gastronomic delights to whet your appetite. Finish the evening with a glass of local Rioja or cava in one of the pavement cafes and plan your next adventure.
There are many ways and means to see Barcelona on a budget, whether you are in the city for a day or a week there are many cheap or free areas to visit, from museums to public gardens, beaches to old cobbled streets with phenomenal architecture you will be spoiled for choice. Hope you had enjoyed these Barcelona travel tips.
If you enjoyed the Barcelona travel tips please check out my Europe hotel photography selection on my site or consider my suggestion for a wonderful hotel in Morrocco.
---