Trunk Hotel Tokyo – Best Japanese hotels 2018
Trunk hotel Tokyo
Trunk hotel Tokyo is a luxury boutique hotel in Japan and was nominated as one of the best Japanese Hotels. It is located in the heart of the thriving Shibuya district. Shibuya is the busiest shopping and entertainment area of Tokyo. It is a major commercial and business centre and houses the two busiest railway stations in the world, Shinjuku and Shibuya Station. The city is colorful, thriving and teeming with some of Japan's coolest hipsters and innovators. When Yoshitaka Nojiri, the President and CEO of Trunk, came to the conclusion that there were no boutique hotels in Tokyo that he deemed to be cool enough, Shibuya was the obvious location for his dream.
Shibuya has long been an area of innovative change and cultural growth. Nojiri knew it was an ideal location for Trunk. A property that was to be so much more than just a luxury hotel, but rather a complete concept that also embraces the issues of social and environmental change.  Trunk Hotel is located between Shibuya's busiest railway station and the bustling area of Harajuku. Its location is that of a quiet street next to the Kamita Shrine where the Shibuya river still flows through the basement. An ideal location for a luxury hotel concept that embraces the new and old of Japanese innovation, design and hospitality.
This year, Antonio Cuellar is again a judge for the Luxury Travel Guide International awards. Antonio had no hesitation in nominating the Trunk Hotel for the Asian category of these awards. Antonio recently visited the hotel and felt it was one of the best Japanese hotels.
About Trunk hotel Tokyo
When designing Trunk hotel Tokyo, Nojiri's desire was to create something that was so much more than just a luxury hotel. The whole philosophy of every element of Trunk is based on the concept of what the entire Trunk team calls 'socializing'. For Trunk 'socializing' is about a social and environmental responsibility that is all about living well, but enjoying a life filled with social purpose. This is quite a difficult concept to grasp until you see it implemented in every facet of the Trunk property and experience.  Absolutely every component of the Trunk hotel Tokyo experience uses recycled or sustainable materials and is built from scratch.
Trunk hotel Tokyo aims to use locally produced ingredients whenever they can, which is good for the local economy, in addition to also providing their guests with the experience of 'localization' which is another important Trunk concept. All of this is done while at the same time paying meticulous attention to detail while also providing a unique luxury experience. The recycled timber from old Japanese homes creates the walls of the hotel and the Lounge Bar. Coffee beans come from a local Shibuya roastery. Abandoned bicycles provide the parts that make the bikes for guests. Recycled garments form the basis of staff uniforms. Cork stools are made from old corks collected from restaurants throughout Tokyo. Every element of the Trunk experience contributes to 'socializing'. By being a guest of Trunk Hotel, you are 'socializing and also making a substantial social contribution by just staying there.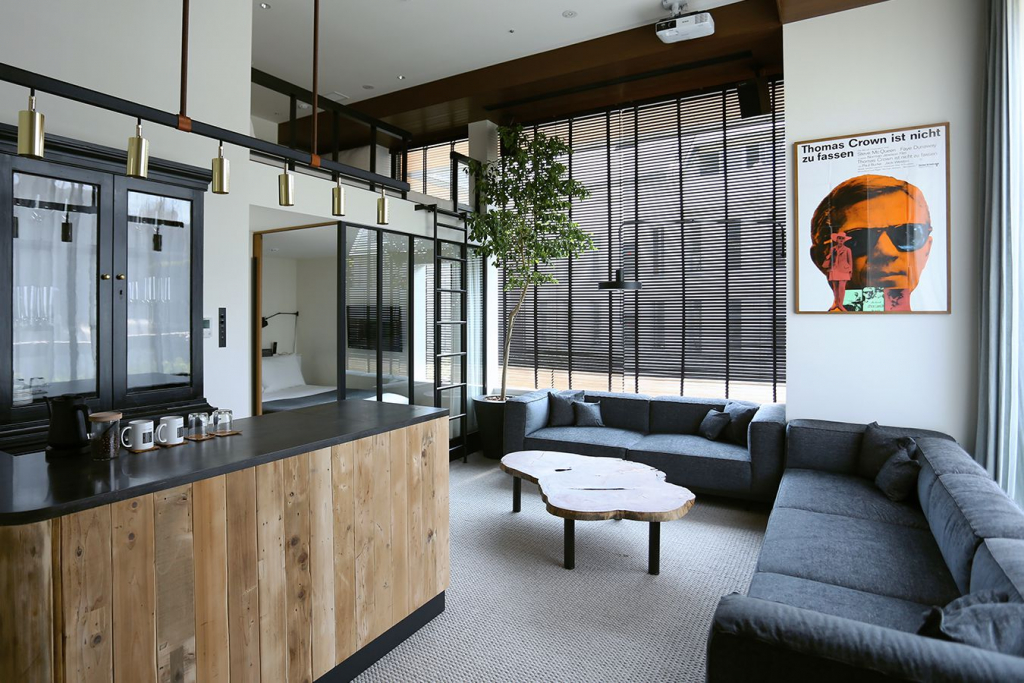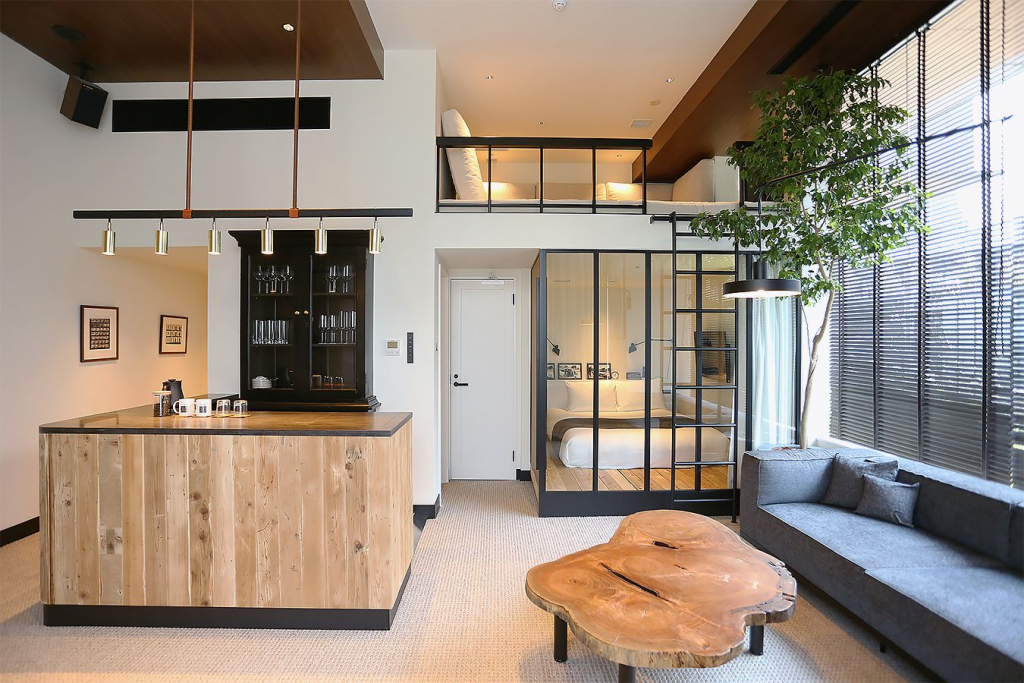 Staying at Trunk
As a guest of Trunk Hotel Tokyo, you will enjoy a truly boutique experience. There are only 15 rooms and suites ranging in size and dimensions, with all of them being unique.
Attention is paid to the smallest of details and this adds to the incredible atmosphere of the guestrooms. The rooms are designed to provide an aesthetically pleasing and functional interior that delivers an atmosphere of luxurious relaxation. All guest rooms have individual artworks decorating the spaces. The team at Trunk ensures they use things in every element of their business that are created from scratch.
Due to the design of the rooms, guest can experience 'socializing' hands on. The guest rooms are a result of Japanese aesthetics and craftsmanship combined with a social conscience and the desire to deliver an incredible luxury hotel experience. Guests receive a logoed t-shirt made from recycled cotton and a pair of flip-flops made from reprocessed materials. These items are in the place of disposable slippers.  The guests will enjoy organic linen on the beds and organic bath towels in the bathroom. For the guest's use, only organic toiletries. Even the glassware is not exempt from sustainability. Old fluorescent light bulbs create the hotel's range of glassware.
It is one of the best Japanese Hoteles because it provides its guests with all the modern conveniences a modern traveller would expect. Social responsibility is certainly a major focus of the Trunk brand. However, this is not necessarily the main attraction for the guest. Trunk also delivers an incredible vibe. Trunk Hotel is a boutique luxury hotel and as a result, only has a small number of rooms. The individually designed rooms are home to luxurious surrounds. The guest rooms are a celebration of traditional Japanese craftsmanship that combines with modern aesthetics and design.
Best Japanese Hotels experience
The location of this Luxury boutique hotel in Japan, which is the Shibuya district of Tokyo is so crucial to the experience it delivers. It was really important to Nojiri that they provide a food and beverage experience synonymous with Shibuya. Thus Trunk Kushi was born, offering an incredible range of 'skewers' in beautifully designed surrounds. Trunk Kushi is all about giving guests a Shibuya soul food experience.
Guests of this Luxury boutique hotel in Japan can experience formal dining at Trunk Kitchen which is all about a dining experience that delivers the best of Japanese-Western fusion cuisine. Here you will find a chef's table, a terrace and a private dining room where all occasions can be catered for.
The 'Third Place' is another name for the Trunk Lounge which provides an additional area for rest and relaxation.  Here is a place for guests, neighbours and friends. An excellent location for nomadic workers, and those who are looking for a place to relax. With signature cocktails, locally brewed beers and roasted coffee, the Trunk Lounge is a place that celebrates its location with a relaxed atmosphere and a menu offering the best of the area.
On-property at Trunk, guests will also be able to find a lifestyle store that sells Tokyo-made keepsakes. The Trunk Store is very proud of the fact that it only sells items that have been locally produced. This includes everything from the honey to the craft beer and the coffee beans.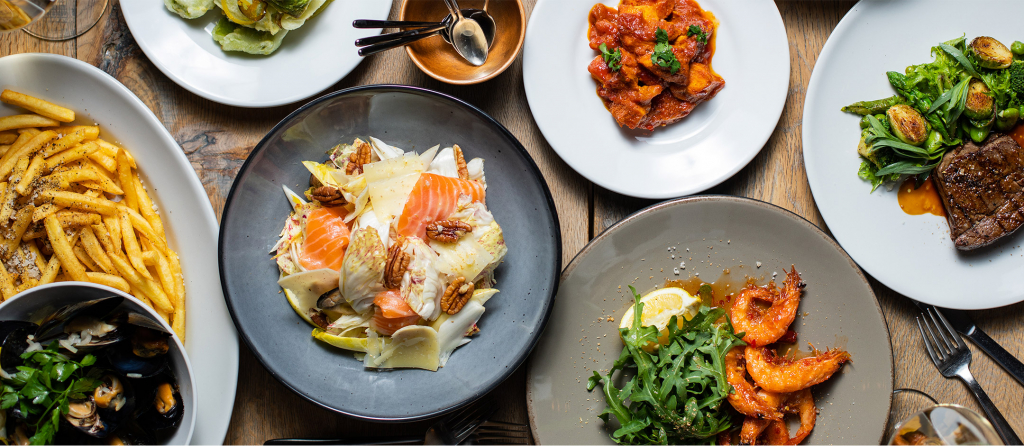 Trunk Hotel – a unique luxury Tokyo experience
Trunk Hotel delivers an experience unlike any other. Our world is currently battling with huge environmental issues and the need to live more sustainable lives. Trunk Hotel offers a glimpse into a world of what is possible where you decide to be socially and environmentally aware while also providing a hip and cool luxury hotel experience!
The Trunk concept uses Japanese craftsmanship in every element of the property and it adds an incredible sense of Eastern beauty and simplicity. Elegance and beauty combine with the most impressive interior design. Trunk Hotel also celebrates its location of Shibuya, Tokyo and the area in which it thrives. It gives its guests a fantastic luxury hotel experience that is genuinely like no other Luxury boutique hotel in Japan.
For more information, please visit the website of Trunk (Hotel): https://trunk-hotel.com/
---