Giraffe Manor Kenya
When the movie Out of Africa opens and you hear Meryl Streep's voice begin, "I had a farm in Africa, at the foot of the Ngong Hills" everyone imagines a house of some grandeur and with definite African charm.  The type of house that is imagined is exactly the sort of property that is embodied by the Giraffe Manor Kenya.    Located 1,795 meters above sea level is Nairobi, the thriving capital of Kenya. Nairobi is the preferred jumping off point for Kenyan safaris and is home to the world's only large game reserve located within an international capital city.   One would think a scene that involves long necked giraffes grazing on African grasses against a backdrop of modern skyscrapers would be one that exists only in your wildest imagination, but in fact in Nairobi, it is very much an African reality.
Within this city that is also home to African terrain and wild animals is the suburb of Langata.  This completely unusual city suburb is a place where lions roam free and black rhino browse unharmed in the sanctuary of the Nairobi National Park.   Within Langata is an extraordinary property called the Giraffe Manor Kenya, one of Nairobi's most iconic buildings, and today, one of Africa's most endearing luxury hotels.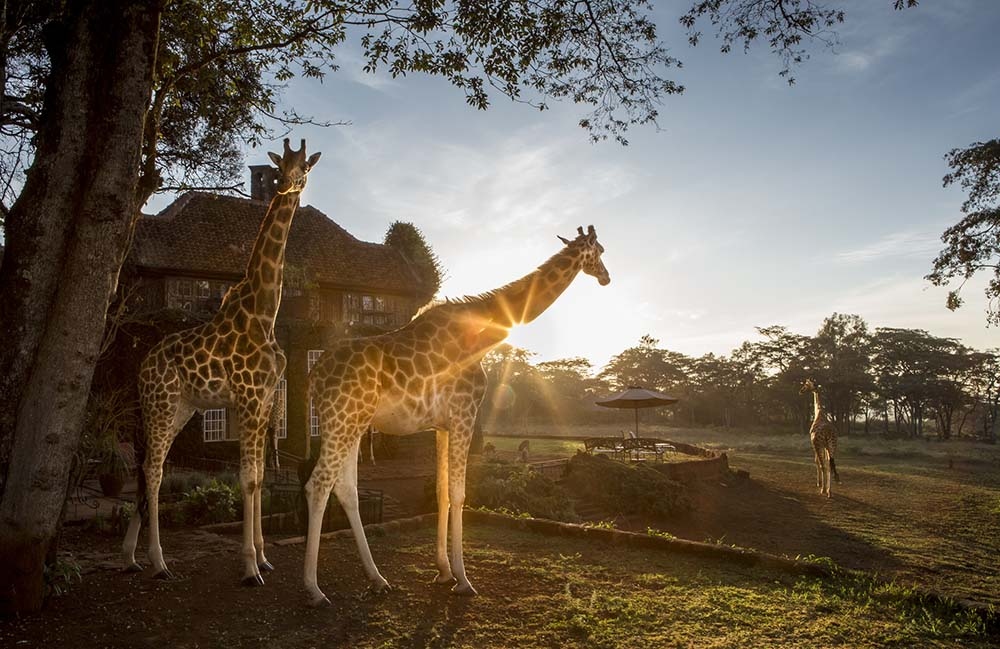 Antonio Cuellar, the renowned international luxury resort photographer has a true appreciation for beauty and for hotels that encompass all elements of luxury to deliver a world-class experience.   In his capacity as one of the judges for the Luxury Travel Guide Antonio was asked to recommend the best luxury hotel in Africa and it was the Giraffe Manor Kenya that was to be his first recommendation.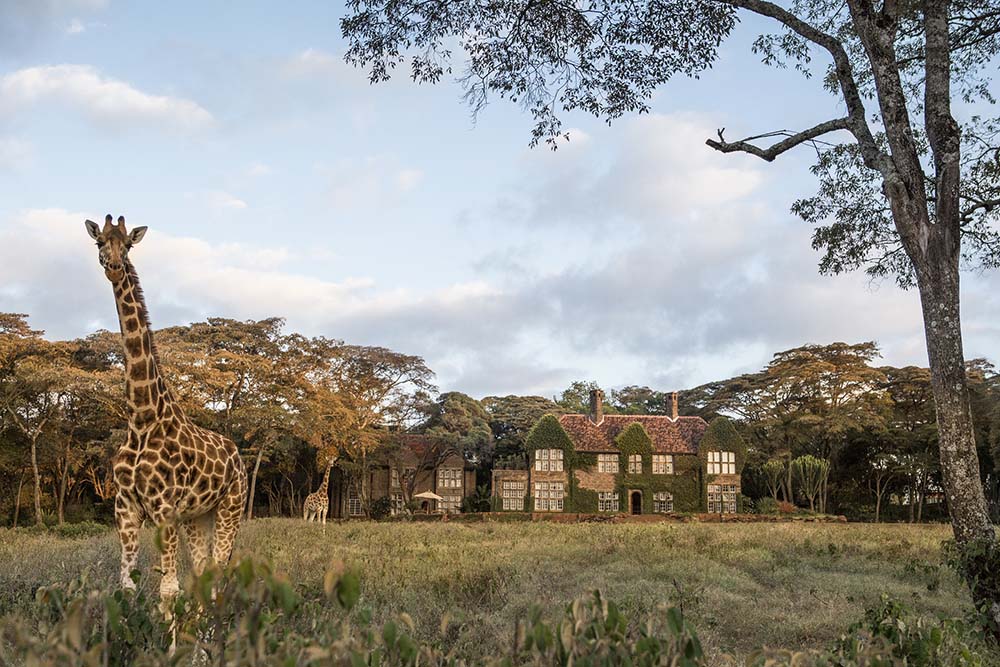 It is quite fitting that we mentioned Karen Blixon's film "Out of Africa" in the opening as guests often comment upon arrival to the hotel that it is literally like stepping into the world of the movie.   Indeed one of the six suites of the hotel is in fact named after the author.
The Giraffe Manor Kenya is quintessentially African with its style and grace.   It is filled with character, is extraordinarily picturesque and a little bit like a property out of the pages of a story book, complete with creeping foliage over its history laden walls.    The hotel is set within 12 acres of private land which is located within 140 acres of the Langata suburb of Nairobi.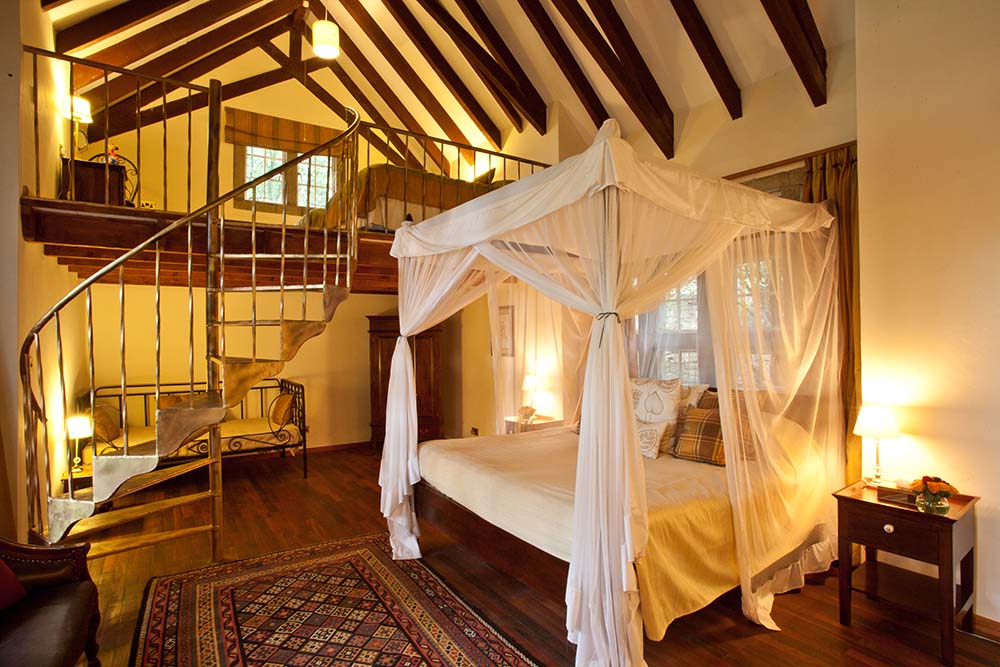 The stately facade of the Giraffe Manor Kenya welcomes all guests to unwind and become a part of a world of yesteryear.  Its elegant interior and divine furnishings promises you from the moment you arrive that the duration of your stay will be nothing short of unforgettable as it invites you to envelop yourself into its luxury and charm.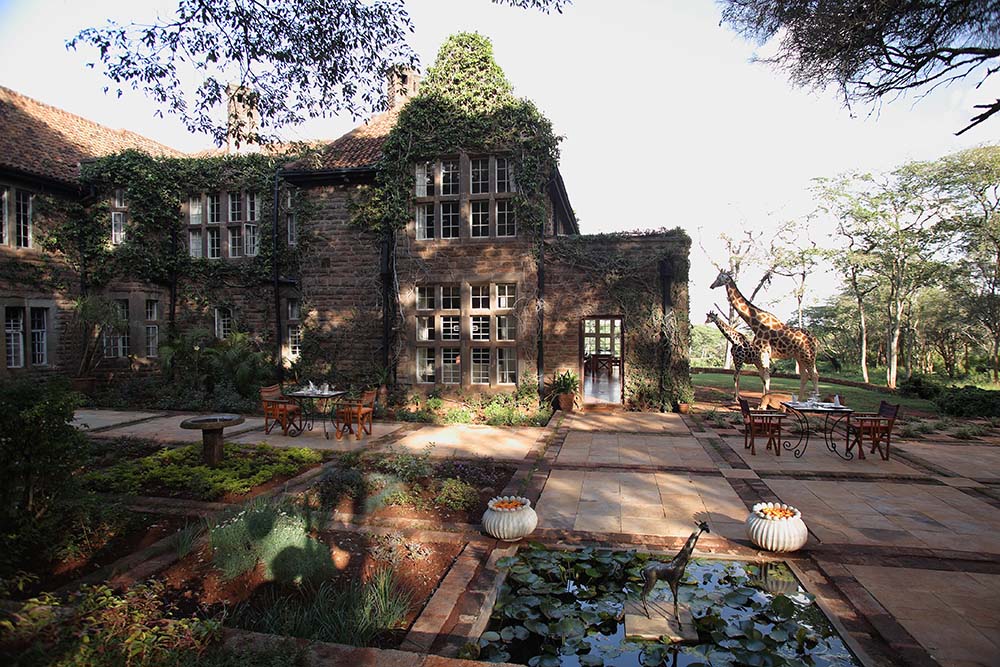 The Giraffe Manor Kenya is located within the walls of a truly beautiful building whose interior is completed with an unrefined elegance that ensures the guests comfort at every level, however, this alone is not what makes this place so special.  The fascinatingr thing about the Giraffe Manor is the fact that as a guest you share this space with a herd of resident Rothschild giraffe.   These gentle and graceful creatures have been part of this land for many years and they are as much at home at the Giraffe Manor as the guests will ever be.   Guests can be delighted with regular daily visits from the giraffe that often pay a visit to the hotel in the mornings and evenings.  It is not unusual for a guest to be greeted by inquisitive giraffe poking their long necks into the windows searching for treats or just to say hello.   They roam the grounds freely often interacting with staff and guests and live in the surrounding forest that is their sanctuary.  The Giraffe Manor Kenya is one of the only hotels in the world where you can safely feed a giraffe from the windows of your room.   This herd of beautiful Rothschild Giraffe is as much a part of the experience of the Giraffe Manor Kenya as the stately building and its internal furnishings.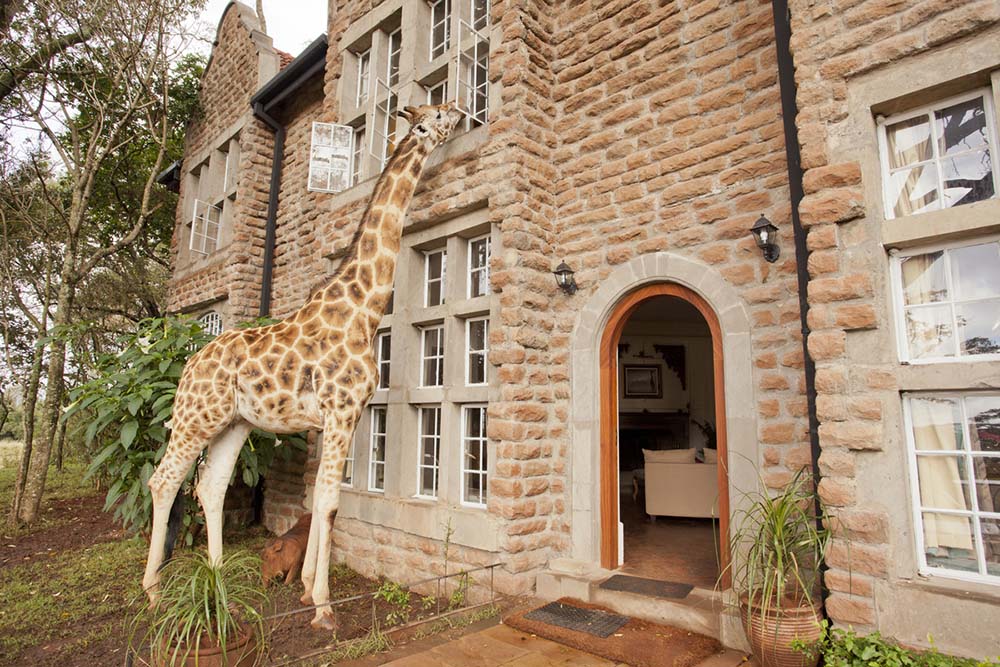 The Giraffe Manor Kenya is a true luxury boutique hotel in that it is small and stylish and retains its feeling of exclusivity at all times; as a guest you will never feel like you are just a number or part of a very large crowd.   The hotel is reminiscent of an older time that offers a feeling of grandeur with rooms adorned with art deco features and possessing four poster beds, spacious bathrooms, elegant furnishings and individual decorations.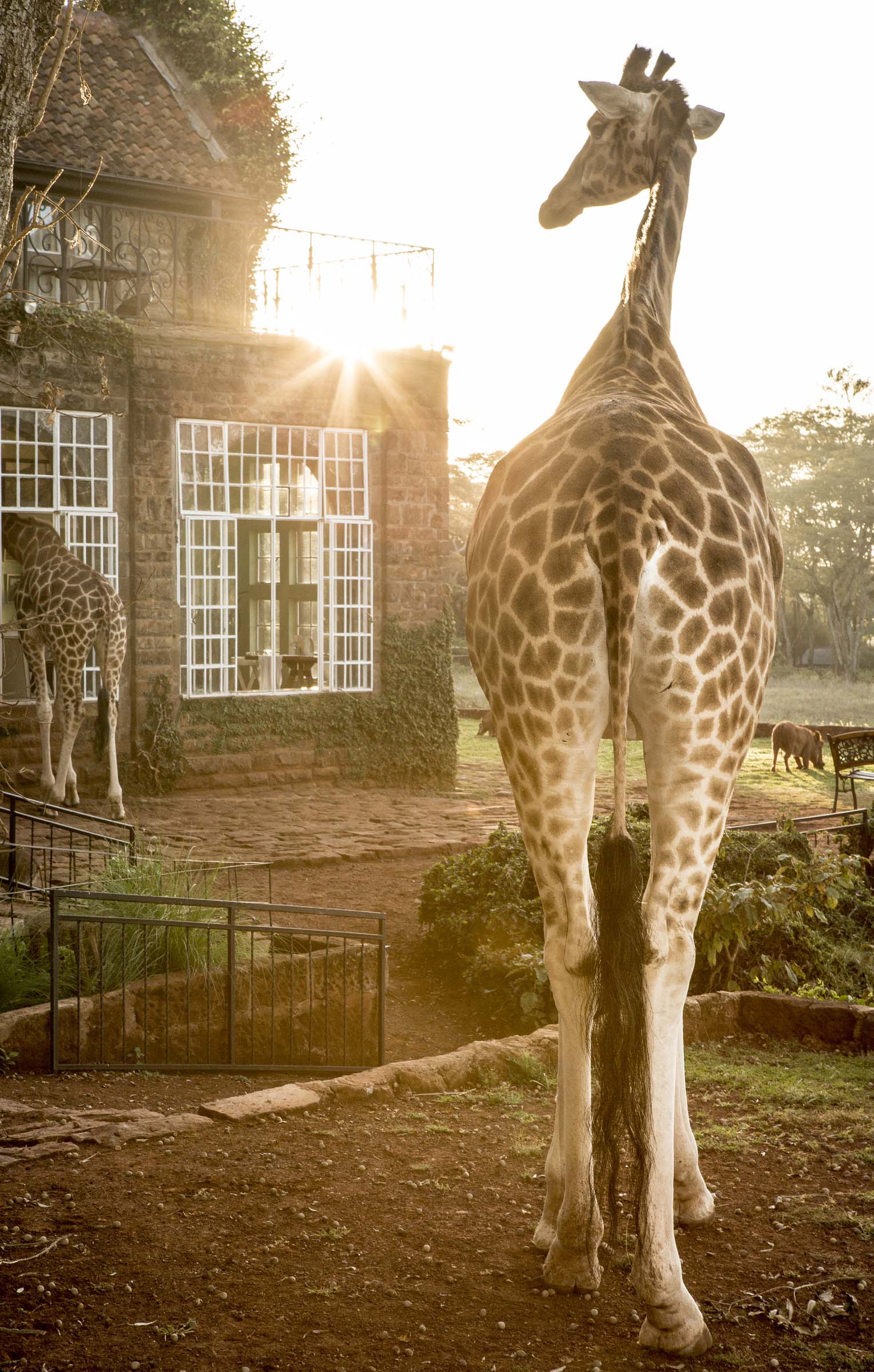 The Manor accommodates up to 25 people only and has 10 luxury en-suite rooms and suites for the guest to choose from.   All rooms are completely unique and each one offers the guest something a little different.    There are configurations to suit couples, families, small groups and children of all ages are welcome.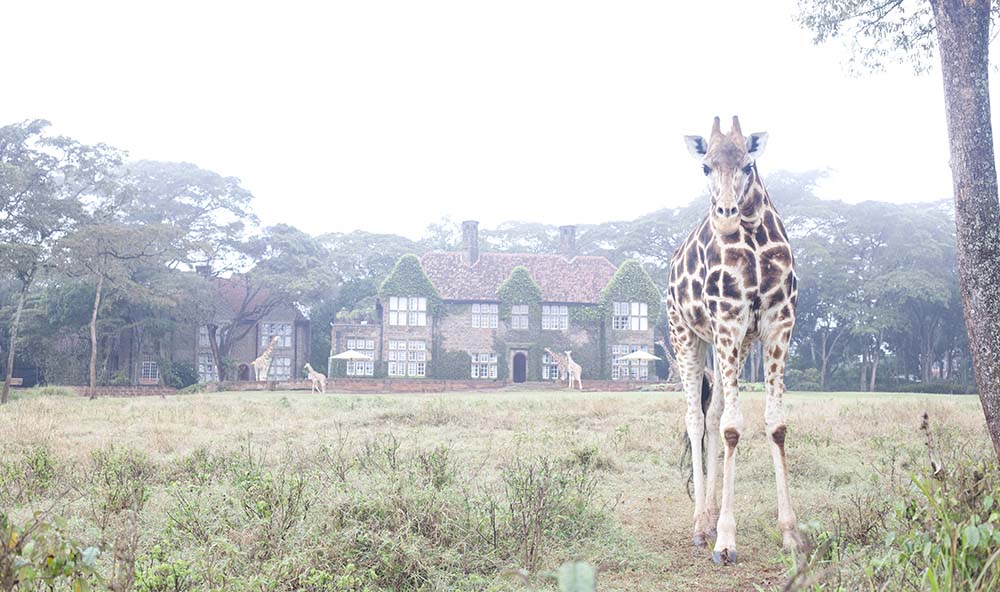 Whilst a guest of the Giraffe Manor Africa connectivity is never an issue as there is wi-fi connection throughout the property and all guests enjoy full board during their stay which is inclusive of all meals and most house drinks.
David Kisevu is the resident head chef who is there to ensure that your culinary experience will be as memorable as the stately surrounds of Giraffe Manor Kenya and the resident herd of inquisitive Rothschild giraffe.   All dietary requirements are catered for and every palette will be satisfied as daily delicacies are served morning, noon and night by Chef Kisevu.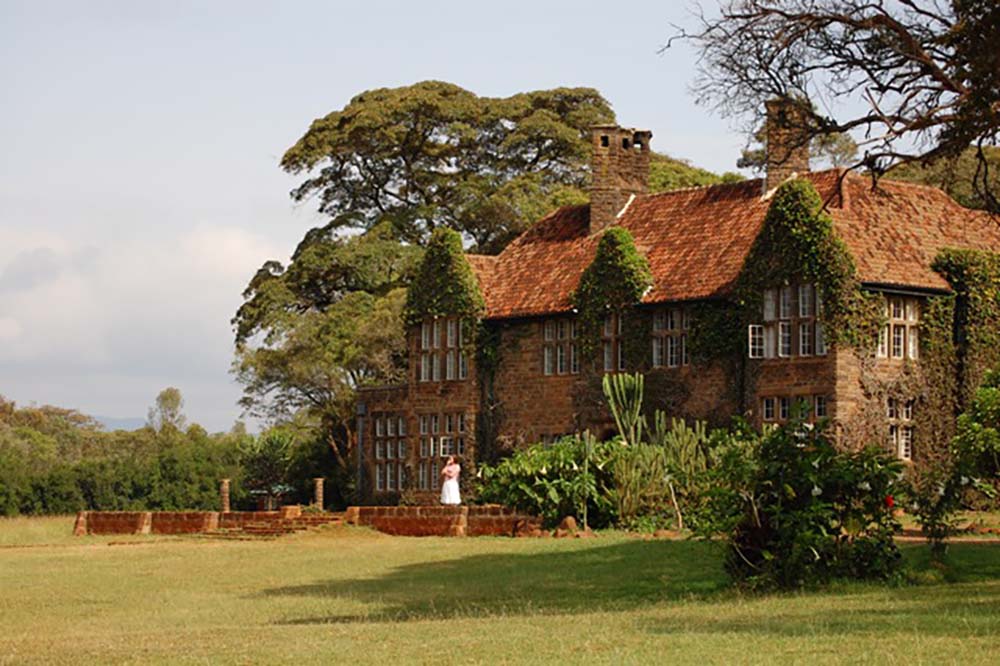 As a guest of the hotel you will not be limited by choice in terms of activities and things to do during your stay.   A short stroll across the lawn will take you to the AFEW (African Fund for Endangered Wildlife) Giraffe Centre where you can learn more about the endangered Rothschild Giraffe or take a guided walk through the sanctuary.  The Manor is located within a large and diverse forest area that is home to many species of animals.  During your time as a guest it would be quite normal for you to also see warthog, impala and some small antelope species.  The surrounding area is also filled with an abundant bird life and the entire forest area provides an endless array of changing scenery that makes it a very beautiful setting to relax.
If you feel like seeking further activity away from the Manor there is an endless list of activities that staff at the Manor can help organise for you.    Sightseeing vehicles are available for guests to visit local tourist attractions which include the David Sheldrick Wildlife Trust where you can meet and feed baby elephants, the Karen Blixen Museum and local galleries and studios.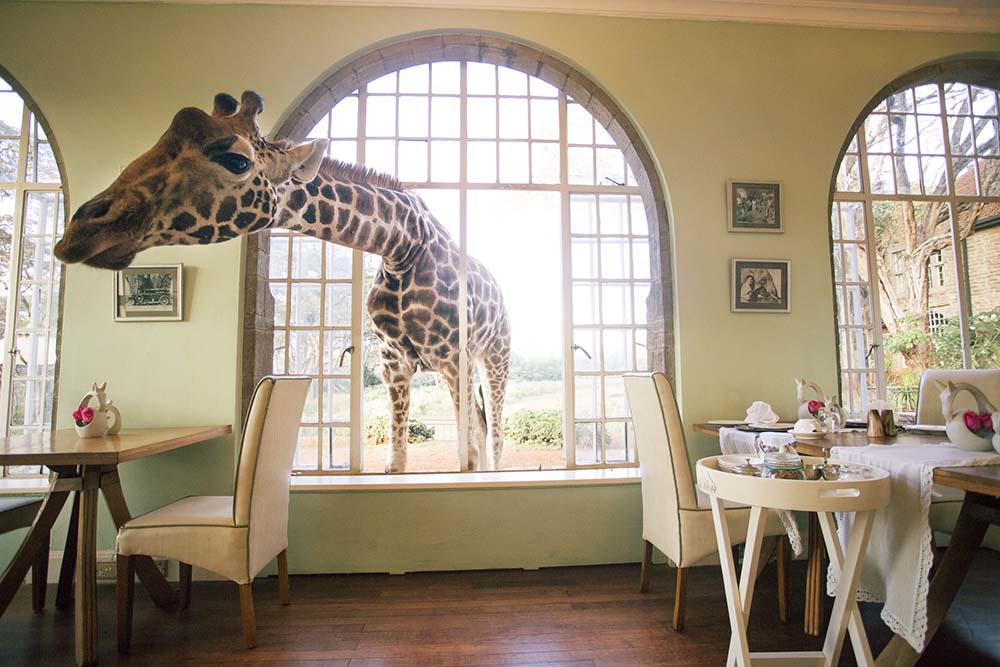 The Giraffe Manor Kenya is not just a hotel or a wildlife reserve; it is a truly unique and luxurious African experience unlike anywhere else in the world.  It will leave an indelible impression on the guest for a very long time.   Antonio Cuellar, luxury resort photographer gave this hotel such a high accolade by selecting it is at the best African hotel for the Luxury Travel Guide but it is an honor that is undisputedly well deserved.    Karen Blixen often talked about places that "fixed" themselves in her mind.  Giraffe Manor Africa is such a place, for all guests that depart it will leave a little place permanently fixed in their mind; a sweet and gorgeous reminder of Africa.
About the Author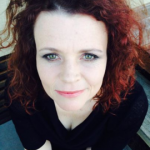 Lara Flanagan spent the first 15 years of her working life working with luxury hotels throughout Australia, Europe, the United Kingdom, the USA, Caribbean & Latin America. The birth of her twins changed things somewhat and now she writes full time about hotels, food, travel and everything in between
.
---