Environmental Architecture
Environmental Architecture
As one of the top Architecture and interior design photographers in the United States, I have the opportunity to shoot some of the new development in the entire East Coast, from New York down to Miami Florida. I often get the opportunity to photograph developments such as Hotels, resorts, Hospital, restaurants and without a doubt, I am beginning to notice a growing number of developments focusing on Environmental Architecture.
Hampton Inn & Suites in Miami Florida is the city's first LEED-certified environmental architecture hotel. Since I was hired back in October to photograph the architecture and Interior design of this building, the development has been accredited with a number of green certifications. The facility features environmental friendly initiatives such as charging stations for electric cars, rainwater harvesting, in-room energy management systems, ozone laundry, low-flow fixtures and more. Even the products used by the cleaning staff are non-toxic and environmentally safe. All of these features in addition to all the features of a top quality hotel. The photographs have also been submitted to numerous architecture and interior design magazines and many other Interior design contests and Architecture exhibits. Some of the Architectural photographs and Interior design Photographs can be seen On the Hotel Website and all over the internet. These are some of the green features of the hotel taken directly from these two environmental architecture developments Hampton Inn Brickell and the Hilton Hotel website.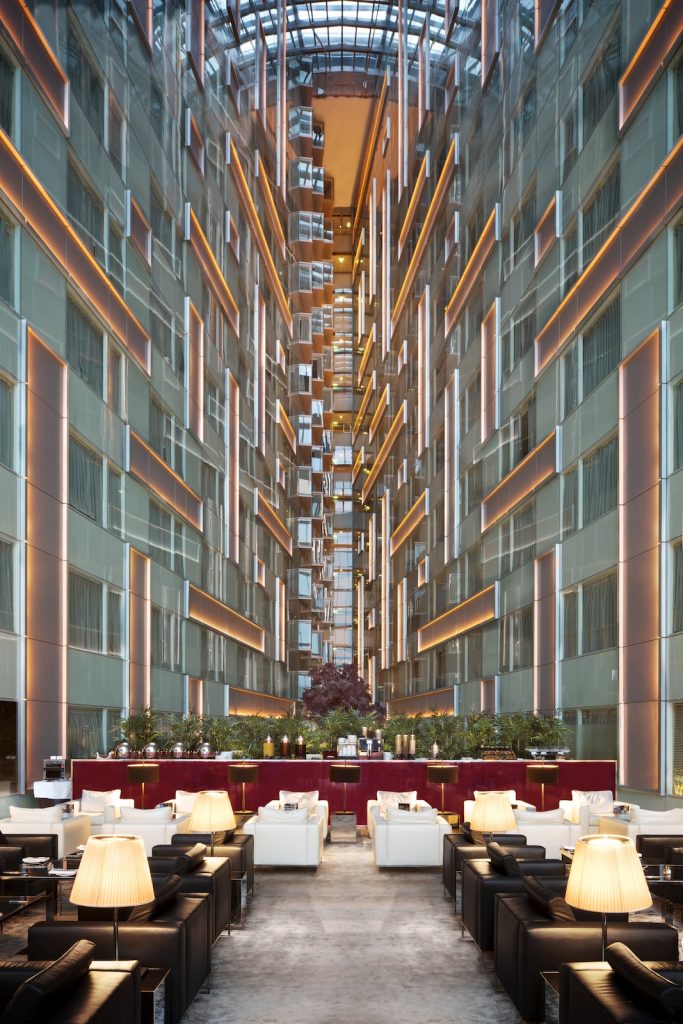 An energy management system is featured in each guest room. When no guest is in the room, the A/C adjusts up and lights can be turned off by turning the master-switch off.
All guest shower heads and faucets are low-flow valves to reduce water flow.
The guest room toilets feature dual flush valve.
Large windows in the guest rooms, lobby and other public areas are benefiting from the daylight resources, and provide views into the regularly occupied areas of the building.
The environmental architecture building is oriented east/west to minimize direct-sun penetration
Lavatory faucets and toilet flushing in the public restrooms are motion activated.
The housing of a 35,000+ gallon cistern to harvest rain water for irrigation and washing exterior surfaces (pool deck, driveways, etc.).
Washing machines meet efficiency standard of less than 25 gallons per load.
An Ozone Laundry System was installed to reduce the use of chemicals, water and energy. It also helps extend the lifetime of linens and towels.
Implemented a linen and towel reuse program that allows guests to choose whether towels and linens are changed daily.
Xeriscape and native plant landscaping reducing dependence on the irrigation system.
Virtually no incandescent bulbs are in used. Lighting utilization of Energy Star qualified Compact Fluorescent Lights (CFL) and more efficient and longer lasting T-8 and T-5 fluorescent lamps and, where appropriate, LED lighting.
Where appropriate, occupancy sensors are installed to control lights in public places and in work areas.
TVs and other appliances are Energy Star rated.
HVAC equipment has the highest level of energy efficiency.
The ozone laundry system in our commercial laundry reduces the electricity and gas required for washing and drying linens and towels.
Where appropriate, use of low-e glazing to introduce daylight with minimal solar test gain.
Preferred garage parking spaces (those close to the elevator) will be designated for hybrid and electric automobiles. Some spaces will have electric outlets so electrical vehicles can recharge during low peak electric consumption hours.
Housekeeping staff are using environmentally safe, non-toxic cleaning agents that decreases the exposure to toxins both for the housekeeping staff and our guests.
All efforts are been made to use wood products that are certified by Smart Wood through the Forest Stewardship Council (FSC).
Construction waste was recycled.
Biodegradable plates, cups and tableware for use at breakfast.
A recycling program was instituted in the public areas (breakfast, meeting spaces and pool area). Housekeeping staff were educated to retrieve recyclable materials from the rooms rather than dump them in the trash.
Consideration will be given to having employee uniforms made from recycled materials.
When linens, towels, and other reusables are no longer satisfactory for guest use, they will be donated to local charities.
Where possible, construction materials as well as furniture, fixtures, carpeting, etc., were composed of recycled materials.
Consideration will be given to the installation of a compactor/bailer to reduce waste and to recycle cardboard and paper products.
Most operational and accounting reports are stored electronically rather than printed, saving as much as one ton of paper annually.
Please check my related post on challenges presented by Interior design photography
---