Luxury Boutique Hotels in Cartagena
Luxury Boutique Hotels in Cartagena
Cartagena, a gorgeous fishing village on Colombia's Caribbean coast, has excellent beaches, a historic old town, and beautiful colonial architecture. As a luxury hotels and resort photographer I have had the pleasure of working in many top destinations around the world and Cartagena remains as one of my favorite places to visit.  Colombia is a Beautiful and Cartagena is the safest places in the country, so it's no wonder it's a popular port of call for cruise ships. I have photographed over 30 Cartagena Luxury Boutique Hotels and would like to share my top ten selection of hotels I would stay. Please note that this selection is in no particular order.
1) Hotel Casa San Agustin
One of my favorite Luxury Boutique Hotels in Cartagena lovingly restored and reimagined for a new generation of travelers, exquisite Casa San Agustín echoes Cartagena's fresh contemporary style and colorful Caribbean sensibility. Refined yet relaxed, its trio of colonial era white-washed buildings exudes the warmth of a magnificently appointed private residence. From original frescoes in the library to centuries-old wood-beamed ceilings in the guest rooms, Casa San Agustín's art and architecture evoke the city's rich history as 17th century Spanish stronghold.
Located within Cartagena's walled Old Town, the hotel features 24 guest rooms and 6 suites, each taking its color cue from the nearby Caribbean Sea. Shades of soft blue mix with specially commissioned furnishings and fixtures to create spaces of singular beauty and originality. The country's abundance of seafood and exotic ingredients inspires the contemporary coastal Colombian cuisine of Alma, the hotel's signature restaurant, and its charming bar and nearby alfresco courtyard – two picturesque settings for conch, ceviche and custom-crafted cocktails.
2) Casa Pestagua
According to Hotel and Lodge Magazine January 2011 editions, Casa Pestagua Hotel Boutique Spa Cartagena, One of the three best Luxury Boutique Hotels of charm in the world. And L'Officiel Voyage Magazine named it one of the 110 most beautiful hotels in the world. Casa Pestagua has also won multiple design awards such as FIABCI award for best architecture restoration.
known as "the most beautiful house in Cartagena", belonged to the 18th Century Count of Pestagua, a rich and powerful aristocrat who gave his name to this mansion with its impressive colonial architecture.
Distinguished by its exquisite architectural and artistic harmony, today the Casa Pestagua Hotel Boutique Spa Cartagena offers luxury hotel services, with the comfort and technology expected by the most demanding hotel standards.
Casa Pestagua Hotel Boutique Spa Cartagena is a boutique hotel with its exclusive offer of 11 rooms housed in spacious grounds, worthy of a first rate luxury hotel.
Enjoy the privilege of being attended to in the Casa Pestagua Hotel Boutique Spa and receiving a totally personalized service in an oasis of peace and tranquility, sheltered by its surrounding walls where you will feel like a lord in the Count's mansion.
3) Sofitel Santa Clara
The Sofitel Santa Clara is located in the heart of the old city, in the interior of a former convent, a jewel of 17th-century colonial architecture which is on UNESCO's list of World Heritage Sites. Gabriel Garcia Marquez used this convent as the setting for one of his novels, "Of Love and Other Demons". The renovation of the hotel led to the discovery of numerous archeological artifacts that are now on view at the hotel Located in the historic quarter of Cartagena, the former convent has now reopened it doors under the Sofitel brand
A perfect blend of vintage and contemporary, striking a balance between art and beauty to accommodate modernity and technology in unique surroundings.
Each detail tells a story.122 rooms, including 19 suites, 6 meeting rooms with capacity for up to 300 people in the auditorium and equipped with the latest technology for events and conventions.The Sofitel Santa Clara hotel offers the perfect combination of age-old tradition, local hospitality and French luxury.With its blend of colonial architecture and modern comforts, the hotel offers comfortable rooms, personalized service, gourmet cuisine, a first-class spa, meeting rooms and cutting-edge technology for events, conventions and weddings.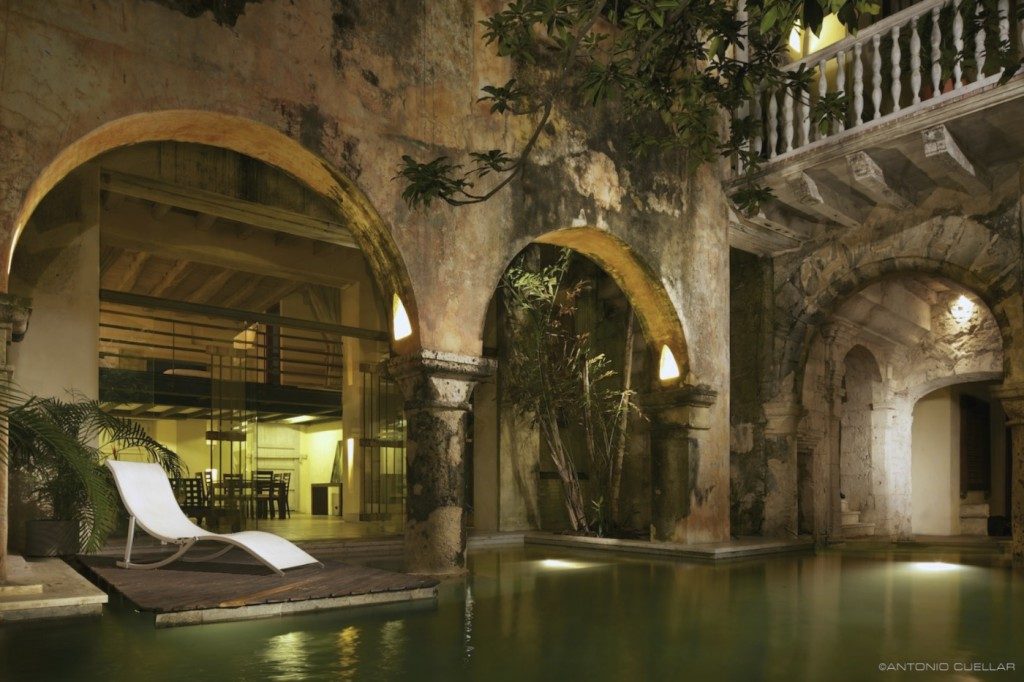 4) Casa Pombo Hotel
Casa Pombo is located in the Historical Center of Cartagena de Indias on the Plaza de La Proclamación with the Cathedral to its right and the Governor's Palace to the left, and only a block away from Plaza de Bolivar. This majestic colonial mansion, originally built in the 16th century, is being renovated by the famous master Alvaro Barrera, and it is one of the most prestigious and exclusive residences of Cartagena.
The colonial mansion, which now serves as a Luxury Boutique Hotels, will count only five apartments (from 232 m2 onwards), each with great architectural detail and a contemporary twist. They are designed as large loft spaces with colonial ceilings exceeding five meters' height. Most of them have a private balcony, terraces and a rooftop mirador. All of them enjoy views of the internal patio pool and share the use of the rooftop swimming pool with solarium.
The renovation of Casa Pombo has been undertaken by Alvaro Barrera who is recognized worldwide for the renovation and re-design of colonial buildings in South America. Completion o is expected for the end of August 2007.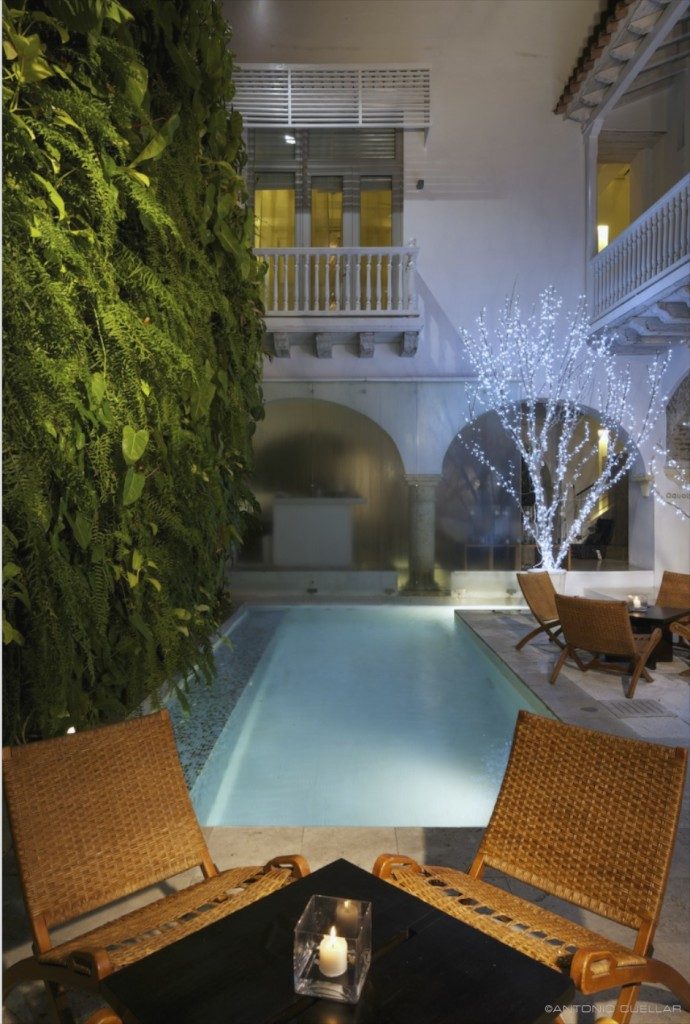 5) Hotel Tcherassi
Silvia Tcherassi has gone a step further in their creative development by opening with CF Hospitality the first Tcherassi Hotel + Spa in Cartagena de Indias, Colombia.
Therefore, it has taken the concepts of their fashion collections and has been applied to the design of colonial hotel that bears his name. Alluding to his childhood memories associated with the modernist curves admired in the DiLido hotel Morris Lapidus and his studies as an interior designer, Silvia feels this project as a natural extension of his vision as a creative fashion. His concept hotel design integrates the tangible with the intangible emotion and creates not only a unique design, but a unique experience. While fashion collections change and emerge with new styles several times a year, the hotel has been developed with the hope that lasts over time. As the first Latina designer to penetrate the hotel market, Silvia again takes the role of innovative venturing into a new industry.
6) Hotel Charleston Santa Teresa
Hotel Charleston Santa Teresa is where a regal mix of historical grace and contemporary cool, meets the warmth of Colombian hospitality. You will be spoiled for choice with so many things to see and do in Cartagena; be enchanted by the Colonial and Republican architecture of this fortress city with dynamic plazas and a warren of cobbled alleyways, overlooked by Bougainvillea-brocaded balconies. When you've explored the sites, relax in the sumptuous guest rooms, unwind in Cartagena's most luxurious hotel spa then experience the magic of a Caribbean sunset over dinner in La Terrazza, one of the best restaurants in Cartagena.
Lovingly restored by expert craftsmen, the reverence of this former cloister demands an insistence on quality and attention to every tiny detail. The proud Colombian heritage is immediately evident from the stately splendor of the facade to the warm personal welcome of the staff. Whether you are looking for a unique corporate event venue in Cartagena, a premier corporate hotel in Colombia, the perfect dream Cartagena wedding or you simply want to revive your body and soul in a hotel spa, at one of the top Caribbean resorts; the Hotel Charleston Santa Teresa will refresh, restore and inspire you.
7) Hotel Agua
The Agua Hotel (Water Hotel), like most boutique hotels in Cartagena, was converted from a luxurious 17th century home. The hotel only has 6 rooms and It offers its guests a warm personalized attention.
Like many other hotels in Cartagena, this hotel has a very poor online presence, but do not be fooled by it, this is one of the most luxurious hotels in Cartagena and you will enjoy every minute of your stay. This accommodation also has one of the best-rated reviews in trip advisor.
8) Casa Claver Loft Boutique Hotel
This hotel is a colonial style house built in the seventeenth century, which has been fully restored in loft rooms with an environment of Luxury Boutique Hotels located in the historic center of Cartagena, near Plazas, churches, museums, and restaurants.
Casa Claver has four loft rooms for stays of the short and long-term that meet the safety standards high standard and are decorated in a modern, simple and comfortable style that provides an exceptional environment.
9) Karmairi Boutique Hotel
Having taken into consideration the unique features of the location, Karmairi Hotel Spa is designed with special orientation and distribution which provides the best advantage of the view and lightning; on the first floor are the reception area, an open-air restaurant, a garden space where the spa and the bar are located, the pool with a wooden deck to rest with marvelous view to the Caribbean ocean, and access to the beach.
On the second floor, seven rooms decorated with a balinisian nuance, which converge on to a fresh and cozy terrace where you can enjoy the sea sight or simply rest drinking a refreshing beverage. On the third floor a luxury suite was designed for special moments, a generous space with a room, a social area to rest or work, double shower and bathroom and a balcony for living and dining room. These ambiances are complemented by four additional hotel guest rooms located in a second house subtly united with a tranquil and inviting interior garden.
Additionally, this is one of the few Luxury Boutique Hotels that has a room for handicapped designed with all the necessary requirements for a comfortable stay.
10) La Passion Hotel
This luxury hotel Cartagena is designed in full detail for those guests looking for an authentic style, a quiet atmosphere and a personalized service for a business or a leisure holiday at the heart of the city center.
Enjoy a charming hotel in Cartagena de Indias built in a 19th-century house of republican style with an exceptional swimming pool in the roof terrace, restaurant, exclusive suites and unique decoration: murals on the walls, Italian marble stairs. Hotel la Passion y one of the most popular Luxury Boutique Hotels in Cartagena and the first choice of many celebrities.
---